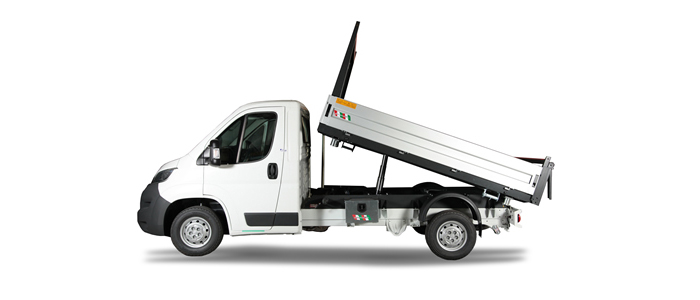 "iMadeinitaly" steel three-sides tipper
Robust, reliable and affordable
Photogallery
---
Product description
Tipper structure in high-strength steel, welded and powder-coated in dark gray color.
Front cabin protection in steel with ladder-rack, with red PVC protection.
Side- panels made with customized ONNICAR profile, in aluminum alloy, anodized in silver color, standard height 400 mm, which can be opened laterally at 180 ° and rear tilting (in both directions) with automatic opening when tipping back.
Side-panels locking systems in anodized aluminum with steel handles, ergonomic, designed and built to withstand intense cycles of use.
Easy to operate handles with reduced overall dimensions in the open position.
Retractable load anchoring hooks, distributed on the load surface. N° 1 couple of rope tensioning winches with opposing hooks.
Rear steel ladder-rack with red PVC protection.
Toolbox in hot galvanized steel.
Underbody cylinder sized in relation to the capacity and length of the tipper, both for the number of extensions and for the lifting capacity. All pistons have a galvanized sheath and the rods treated in such a way that they cannot be damaged by rust.
Hydraulic system activated by an electric control unit.
Rear mudguards with mudflaps in thermoplastic material, side reflectors and clearance lights, where necessary, complete the product.
Safety equipment of the tipper:
Front anti-tipping system;
mechanical limit switch;
battery switch;
electrical system with power fuse and protection of vehicle electronics;
buzzer;
spiral pushbutton panel with emergency stop;
safetybar.