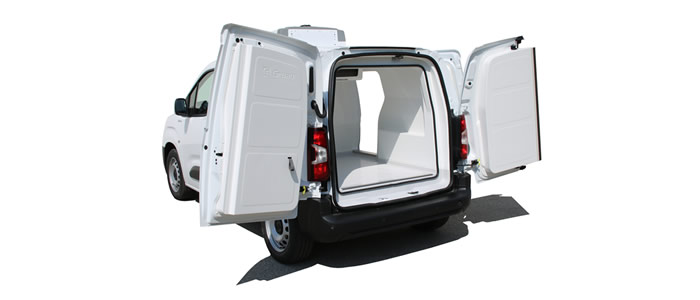 Isothermal insulation Gruau "Iso-City"
Gruau isothermal conversions allow Professionals to transport their perishable goods in compliance with the best health and safety standards, while respecting the cold chain.
Photogallery
---
Product description
Gruau "Iso-City" isothermal insulation is tailor-made and it suits perfectly to the load compartment of the base vehicle. It is available for commercial vehicles of all brands and models (internal volume from 1 m3 to 15 m3). It can be configured according to every need, for the transport of refrigerated products (class A: 0 + 4 ° C) or frozen and deep-frozen products (class C: -20 ° C).
The structure of the Gruau insulation is originally arranged for the assembly of refrigeration units of each manufacturer, battery-operated or dragged, road only or road / stand-by; depending on the vehicle and needs, the condensing unit can be positioned "on the roof", under the body, or inside a special niche, with the possibility of installing an aerodynamic cover to significantly reduce consumption and emissions.
The Gruau "Iso-City" isothermal insulation, ATP approved, guarantees compliance with the cold chain at every stage of transport; customized with the wide range of options available, it satisfies the needs of every work activity (not just for food transport missions): cheese factories and dairies, home deliveries, butchers, pastry shops, fishmongers, restaurants, but also wineries, hospital clinics, pharmacies and nursery gardeners . Made of fiberglass and polyurethane sandwich panels, preformed and assembled inside the base vehicle, the Gruau "Iso-City" isothermal insulation:
guarantees thermic insulation and maintenance of the correct temperature during all transport phases;
maximizes internal useful volume;
guarantees ease and speed of sanitation and maintenance;
offers a wide range of conversions, in compliance with ATP regulations (eg. meat transport, fish transport, dairy transport, etc.);
it is suitable for the transport of medicines and plasma;
does not affect the aesthetics of the base vehicle.
The specially configured Gruau isothermal insulation is the first in Europe to have obtained the "Certicold Pharma" certification (2017) to guarantee compliance with the guidelines on the transport of medicines.