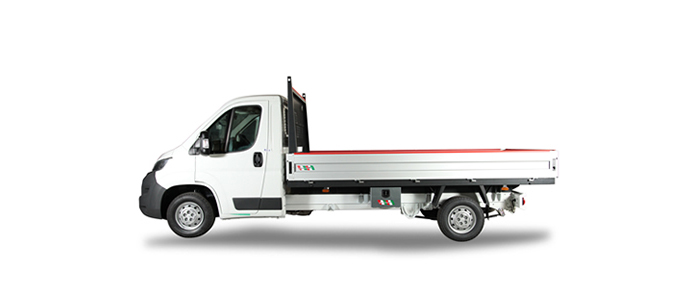 Dropside body in steel "iMadeinitaly"
Robust, reliable and affordable
Photogallery
---
Product description
Structure entirely made of high-strength steel, powder-coated in dark gray color.
Loading surface built with modular phenolic plywood panels, with non-slip surface.
Front cabin protection in steel with ladder-rack, with red PVC protection.
Lateral and rear sideboard panels made with customized ONNICAR profile in aluminum alloy, silver-colored anodized, standard height mm 400, which can be opened at 180 ° with a red plastic upper profile.
Sideboard panels locking systems in anodized aluminum, ergonomic, designed and built to withstand intense cycles of use; easy to operate handles with reduced overall dimensions in the open position.
Retractable load anchoring hooks, distributed on the load surface.
Rear mudguards with mudflaps in thermoplastic material, side reflectors and clearance lights, where necessary, complete the product.